Site Map
Top 100 Anne Rice Vampire Chronicle Sites!
This is a voting gateway to anne rice fan sites.
Top 100 Anne Rice Vampire Chronicle Sites!
This is a voting gateway to anne rice fan sites.
---
Marguerite Mayfair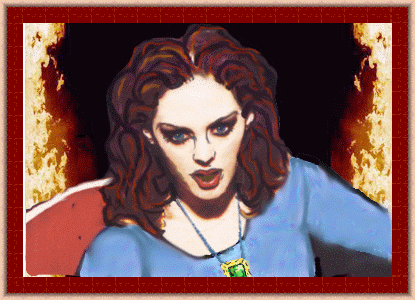 The seventh of the Mayfair witches since Suzanne, she is Marie Claudette's daughter and the mother of Katherine, Julien and Remy. Born in 1799, she is the third of Marie Claudette's children. Everyone in the family adored Marguerite. She had her portrait painted wearing the Emerald necklace when she was ten. The picture hung on the wall in the First Street house in New Orleans from 1927. She was a delicate child with dark hair and large slightly upturned black eyes. Considered a beauty, her nurses called her 'La Petite Gypsy.' She had a fiercy temper and a violent and unpredictable sense of humour. She married Tyronne Clifford McNamara when she was twenty, against the wishes of Marie Claudette. He was a handsome opera singer that toured around the United States. In 1827 and 1828, she gave birth to Remy and Julien. Tyronne was famous for his womanising, drinking and getting into brawls. In 1829, Tyronne and an Irishwoman, presumably his mistress, were found dead after a fire in the French Quarter. It is said that Marguerite sent her devil to take care of the two and that she knew more about Voodoo than any black person in Louisiana. In her late twenties, Marguerite had become a gaunt and somewhat frightening figure, with unkempt hair, glowing dark eyes and disconcerning laughter, always wearing the Emerald necklace. At Riverbend, she had a study full of horrible and disgusting things such as human skulls, stuffed and mounted swamp animals, trophy heads from African safaris and animal skin rugs. There was also many bottles and jars with many people claiming to have seen body parts in them. During this time, there were many sightings of Lasher accompaning Marguerite, he was thought to be her lover or companion. People were puzzled as to who he was and how he came and went saying, 'Now you see him, now you don't'. This was the first time Lasher had been spoken of in such a way in over one hundred years. Marguerite re married almost immediately after Tyronne's death to Arlington Kerr, who vanished six months later. It is rumoured that Arlington was murdered and ended up in a collection of Marguerite's jars. Before his disappearance, Marguerite conceived, giving birth to Katherine in 1830. Marguerite, described as a 'hag' at forty, spent the last of her decades in a library of horrible and disgustuinng things, talking to herself out loud and conversing at length with her reflcection and plants. Marguerite dies in 1891, at the advanced age of ninety-two.